Cylinders are available in various standardized lengths.
Cylinders are available in various standardized lengths. Do you want to place an order? First, determine which Bold model is suitable for you by checking which size you need. A cylinder has an inner dimension [indoor] and an outer dimension [outdoor]. Start measuring both dimensions from the lock hole intended for the locking screw.
You can recognize the lengths by the last two digits of the model name: SX[indoor][outdoor]. Please use the table below to easily find the model suitable for your door.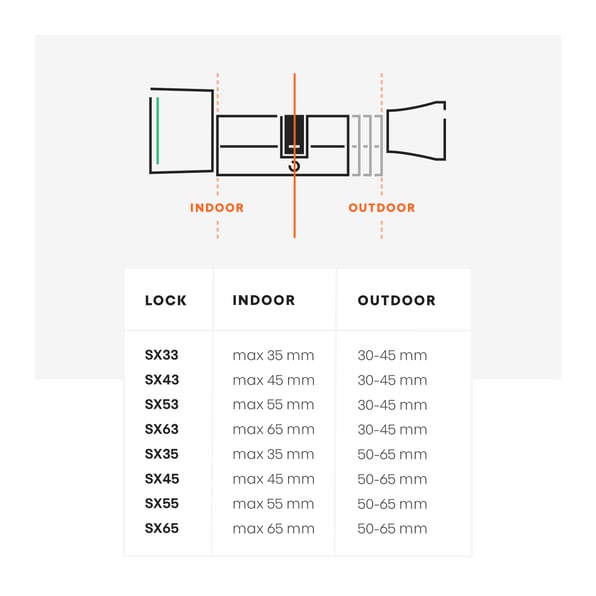 The inner dimensions [indoor] differ in steps of 10 mm. For example, the inner dimension of the SX33 can replace a cylinder with an inner dimension of max 35 mm.

You can use the adapters provided to adjust the outer dimension [outdoor]. Model names end with the numbers 3 or 5. This means the standard outer dimension is 30 or 50 mm. You can extend all Bold Smart Cylinders on the outside by 5, 10, or 15 mm using the adapters provided. For example, it's possible to extend the outer dimension of the SX33 from 30 mm to 35, 40, or 45 mm.
Note: The inner knob of the Bold Smart Cylinder needs about 3 cm between the hole of the cylinder and the door frame, to avoid pinching. This is no problem at all with most doors.